DOUGLAS SBD-5 DAUNTLESS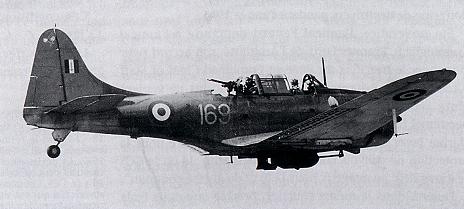 SBD-5 Dauntless of the 4FB squadron seen in 1944. (coll. Feuiloy)
SINGLE-ENGINED DIVE-BOMBER
The aircraft made its first flight in July 1935. The SBD Dauntless was the scourge of the Japenese Imperial Fleet in the crucial years of the Pacific War. Almost single-handedly, 54 SBDs from the carriers USS Enterprise and USS Yorktown won the pivotal Battle of Midway on June 4th 1942, destroying four Japanese "flat tops" in the course of just 24 hours. The SBD of 1942 could trace its origins back to the rival designs penned by gifted engineers John Northrop and Ed Heinemann in the mid 1930s. Northrop produced the BT-1 for the US Navy in the spring of 1938, its revolutionary all-metal stressed-skin design exhibiting airframe strength that made it an ideal candidate for adoption as a dive-bomber. By the time the BT-1 had evolved into the BT-2, Northrop had been acquired by Douglas, and the type was redesignated the SBD-1. Production aircraft began to reach the Marine Corps in 1940, and by the spring of the following year the definitive SBD-3 was in service, this version boasting self-sealing tanks, a bullet-proof windscreen, armour protection, an upgraded engine and improved armament. 584 SBD-3s were built, and it was these machines that became the key combat aircraft in the Pacific in 1942-43. The USAAC also procured nearly 900 Dauntlesses, which it designated the A-24 - production of all variants of SBD/ A-24 finally totalled 5 936. It could accommodate two pilots. It was equipped with a Wright R-1820-66 Cyclone 9 engine.
=> see the story of the SBD Dauntless n° 06624 of the US Navy found in Lake Michigan.
In 1943, when French North Africa joined the allied nations, the 3FB and the 4FB squadrons were created and equipped with SBDs (a total of thirty-two examples). Those units were operational in September 1944. They were moved to Cognac, they carried on missions over South-West of France at the end of the WWII against last German bastions. On April 30th 1945 the surviving planes of the 4F were embarked aboard CVE Dixmude in order to fight over Indochina. In November 1948, the ship was replaced by the CV Arromanches armed with the 3F with its SBDs. Last Dauntlesses were retired from French service in July 1949.
| | | |
| --- | --- | --- |
| SPECIFICATIONS | (US) | (FR) |
| LENGTH | 33 ft 0 in | 10. 06 m |
| WINGSPAN | 41 ft 6 in | 12. 65 m |
| HEIGHT | 12 ft 11 in | 3. 94 m |
| WEIGHTS | 6 535 lb (empty)/ 9 519 lb (full) | 2 964 kg (empty)/ 4 318 kg (full) |
| MAX SPEED | 255 mph | 410 km/ h |
| RANGE | 773 miles | 1 244 km |
| OUTPUT | 1 350 hp | 1 007 kW |
WEAPONS
Two 12,7 mm (.50 cal) Browning M2 machine-guns mounted in upper engine cowling.
Two rearward-firing 7,7 mm machine-guns mounted in rear cockpit.
External bomb load up to 1,200 lbs.
[PHOTO GALLERY OF THE SBD-5 DAUNTLESS] [
AIRCRAFT MENU
] [
MAIN MENU
] [
HOME
]